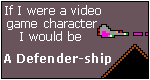 I am a Defender-ship.


I am fiercely protective of my friends and loved ones, and unforgiving of any who would hurt them. Speed and foresight are my strengths, at the cost of a little clumsiness. I'm most comfortable with a few friends, but sometimes particularly enjoy spending time in larger groups. What Video Game Character Are You?


I taste of Death.


Doesn't everyone want a taste of death? Well they should. Most people deserve death. Keep away from me unless you think you're better than that. I probably won't like you. What Flavour Are You?


I am a Hood.


I'm a dark horse, mysterious and sinister. People are never quite sure what to think of me, but at least I make them think. What Sort of Hat Are You?


Ottava rima? Me? That can't be right!
Too frivolous? But tut, there's no such thing!
Let others ponder thoughts of wrong and right,
Or sit and think how much they love the spring;
I'd rather spend my time in gleeful spite,
Or maybe laugh, or maybe sit and sing.
Besides, it might be fun to be inspiring -
But surely it would get so very tiring.
What Poetry Form Are You?